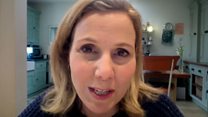 Video
Actress Sally Philips talks about her son who has Down's syndrome.
When Sally Phillips's son, Olly, was a few days old he was diagnosed with Down's syndrome.
"The doctor said to us: 'I'm sorry, I'm so sorry.' The nurse on duty cried. I don't think anyone said anything at all positive," says Phillips - the actress and screenwriter best known for her roles in Miranda and Bridget Jones. But she says Olly has changed her and her family for the better.
Now she's worried that the introduction of a highly accurate test to identify foetuses with Down's syndrome could lead to more pregnancies being terminated.
Sally Phillips explores the issues around the new pre-natal test in A World Without Down's Syndrome on Wednesday 5 October at 21:00 on BBC Two.