Media player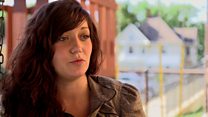 Media playback is unsupported on your device
Video
Marissa Darnell has kicked heroin and is trying to stay clean
Marissa Darnell is being treated at Lorain County's largest drug rehab facility, LCADA Way. This is her third attempt at quitting heroin.
Since she found out she was pregnant, Darnell has not taken heroin – her baby is due in October.
Darnell is determined to leave her dark past behind – the prostitution, the stealing, the jail time.