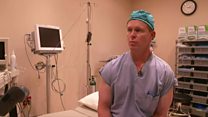 Video
US fertility doctor: 'A couple should be heterosexual'
The National Embryo Center is Tennessee is one of the leading clinics in the US offering couples the chance to use donated embryos to have a child.
The practice is growing, and nearly 600 babies have been born following treatment there.
But not everyone can get help. Medical director Dr Jeffrey Keenan says the clinic's policy to refuse to treat same sex couples and single people is based upon Christian and ethical beliefs.
Critics say centres such as this should not be able to chose who can and cannot have a child.
Filmed and edited by Peter Murtaugh and Olivia Lace-Evans. Produced by Jasmine Taylor-Coleman