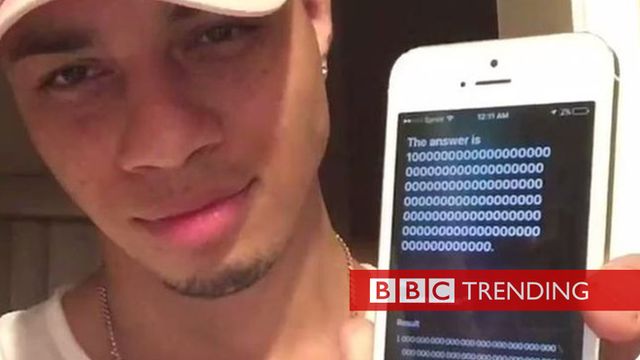 Video
A trillion to the tenth power? Trends of the week
Musical duets with Iphone's Siri, the mystery Lionel Messi fan found and American Rapper Macklemore's new song becomes a heated discussion topic on Twitter.
All that and more in BBC Trending's Trends Of The Week. You can also listen to our radio programme here.
Produced by Nooshin Soluch
Picture credits: Getty Images, Facebook/Marcus Perez , Arif Ahmadi, Twitter/Sayed_Anvar, Twitter/@tyrellephillips, Twitter/@Karnythia, Twitter/jcobayan,
You can follow BBC Trending on Twitter @BBCtrending, find us on Facebook and watch our videos on YouTube too.
Go to next video: Is it OK to dress up as Cecil the Lion's killer or Caitlyn Jenner?