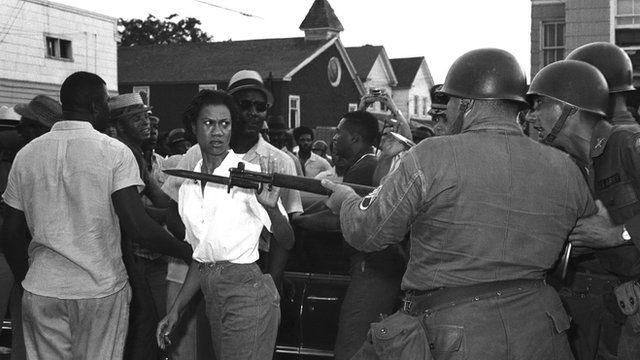 Video
Fighting for equality in 1963 small-town America
The fight for the vote and an end to segregation of black and whites in the southern US states during the 1950s and 1960s is well documented.
However, there was another battle being fought in the country's northern states where blacks had the vote but few privileges.
In the small industrial town of Cambridge, Maryland, cafes, churches, schools and hospitals were all effectively segregated.
Unemployment among blacks was high and they found it hard to escape the ghetto or secure decent jobs.
When civil rights activists staged a series of protests to secure greater equality, the town became the centre of one of the most bitter fights to end discrimination.
Gloria Richardson, now 92 years old, was at the centre of that protest which became so violent that hundreds of state troopers were drafted in to keep the peace.
Such was the discord that Bobby Kennedy, the US Attorney General and brother of the then US president, JF Kennedy, became directly involved.
Mrs Richardson talked to Witness about the tension and battle to win greater rights for blacks in Cambridge..
Witness is a World Service radio programme of the stories of our times told by the people who were there.
With thanks to Joseph R. Fitzgerald, Ph.D., Cabrini College, Pennsylvania
Go to next video: The fight that changed boxing forever