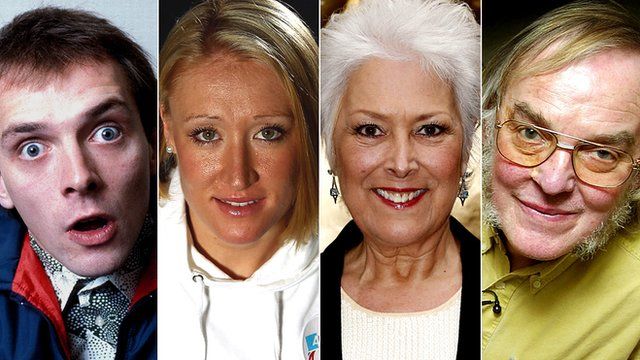 Video
Notable UK deaths
This photofilm features a selection of people who died in 2014 and whose lives impacted on UK cultural life - it includes several non-British nationals.
(This video will feature in an article to be published between Christmas 2014 and New Year 2015.)
There will be a separate photofilm on Tuesday 30 December looking at global figures who died in the past 12 months.
All images and audio subject to copyright.
Most images courtesy BBC, Press Association, Getty Images, Associated Press, Reuters, Rex Features and Alamy.
Other images courtesy Paul Wolfgang Webster (Shirley Baker), Ben McMillan/ Penguin (Sue Townsend), Brendan Wynne (Efua Dorkinoo), the Larbey family (Bob Larbey).
Music by Acker Bilk, Alvin Stardust, Cream, Gerry Rafferty, Lynsey de Paul/Mike Moran - and EMI Production Music.
Photo film production by Paul Kerley.