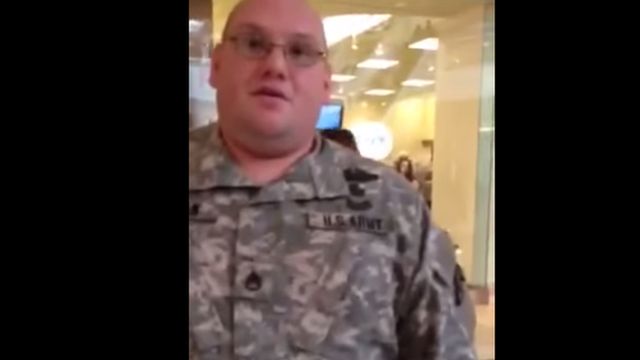 Video
#BBCTrending: Online activists try to ID Army fakes
A video of a man alleged to be impersonating a US Army Ranger has gone viral, with more than 3 million views since it was posted on YouTube on November 28.
Ryan Berk, a US Army veteran, encountered the man at a shopping mall in Pennsylvania.
"The first thing I noticed was his flag on his shoulder. It was really low, and it was kind of crooked," Berk said. So he decided to confront him.
He sent the video to the blog Guardian of Valor, which has a "Hall of Shame" where it posts pictures and information about people accused of impersonating soldiers.
There has been intense backlash online and in the media against the man in the video, who has since been identified as Sean Yetman. He has not yet responded to the allegations publicly.
One Congressman has called for him to be prosecuted.
But is it illegal to imitate a member of the military?
BBC Trending spoke to Jonathan Turley, a legal scholar and law professor at George Washington University, about the law known as the Stolen Valor Act.
Produced by Franz Strasser and Ashley Semler
Go to next video: What baffles the world about the British?