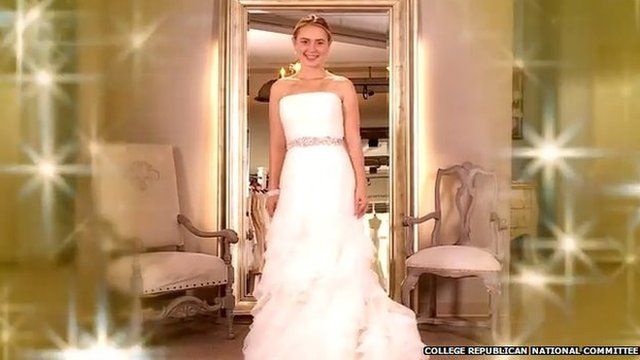 Video
Republican advert: Say yes to the candidate
The College Republican National Committee is trying to convince young women to vote conservative by comparing their candidates to stylish wedding dresses.
In the minute-long internet adverts, a young blonde woman named Brittany stands in a bridal store weighing which dress (er, candidate) to choose. The million-dollar campaign is running in 16 states and targeting six competitive governor elections.
The spot, titled Say Yes to the Candidate, is a play on a long-running US cable television reality show, Say Yes to the Dress, in which women deal with the trials and tribulations of wedding-dress selection.
Critics have called the advert sexist and have said they think the strategy is going to backfire, as Anthony Zurcher reports.
Go to next video: What women want ... from politicians