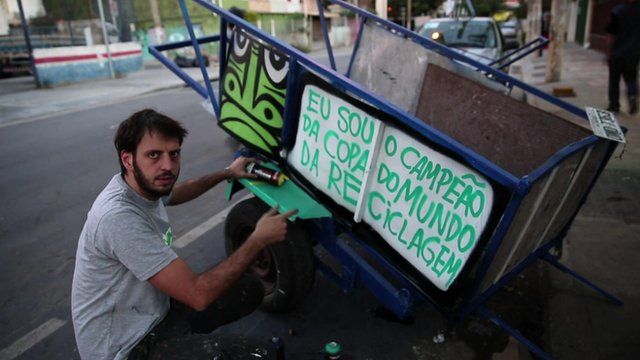 Video
Pimp My Carroca: One artist's campaign to clean up Sao Paulo
Sao Paulo has a serious rubbish problem, which is expected to be aggravated by the World Cup tourist influx.
Brazil's largest city produces 18,000 tonnes of rubbish every day - a staggering 6.5 million tonnes per year.
Many of Sao Paulo's landfills have already reached capacity, and just 1% of waste is recycled.
A quiet army of 20,000 waste collectors roam the streets day and night collecting recyclable material in carts called carrocas and selling it.
These "catadores" are largely unrecognised for their crucial role keeping Sao Paulo clean. But with a project called Pimp My Carroca, artist Thiago Mundano is trying to draw attention to their work.
Produced by Frederick Bernas and Enrique Castillo
Go to next video: 'Germany' conquer in favela world cup