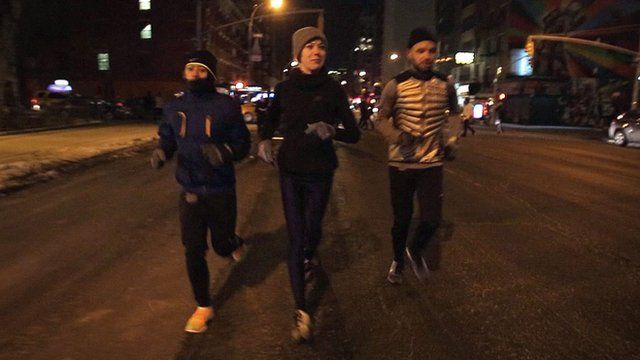 Video
New York's night runners pound pavements then party
For New York's growing band of night runners, the long distances are anything but lonely.
When most people are heading home from the gym or an early evening drink, that's when Jessica Zapotechne and the crew she co-founded, known as Black Roses NYC, are heading out the door to pound through some of the most remote streets in the city.
The whole night-running movement started in New York in 2004, and now it has spread to other cities where people like to work and play hard, including London, Rio de Janeiro and Hong Kong.
Jessie - an art therapy lecturer - joined the original Bridge Runners crew in 2005, where the exercise flowed freely into partying and celebrating street life in all its forms late into the night.
Just over a year ago, seeking a more holistic and slightly less macho culture to run in, she formed Black Roses NYC, together with writer and former magazine editor, Knox Robinson.
Despite toning it down a little and instituting training runs, the promise of "post-run carbs" at a fashionable beer garden or cocktail bar remains a vital part of the schedule.
The BBC joined them on the mean streets of downtown Manhattan, for only their second outing of the year.
Produced by Matt Wells; filmed and edited by Ilya Shnitser
Go to next video: What does a collection of 100,000 American war letters teach us?