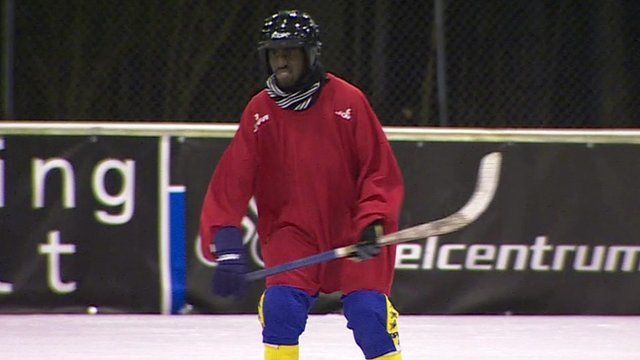 Video
Somali team seeking to be masters of ice sport bandy
Bandy is not a game that many people know. It is basically ice hockey writ large - played outdoors on a sheet of ice the size of a football pitch, and with a ball not a puck.
Unsurprisingly, the countries that win major competitions are generally from the frozen north - Sweden, Finland or Russia.
But when this year's World Championships take place later this month in Irkutsk in Siberia, there will be a new contender - from Africa.
Somalia are not expected to win many games, but they are likely to gain a lot of new friends.
BBC News visited Ahmed Hussain Abdi and his teammates at their training base in Borlange, Sweden.
Real Time is a series for the BBC News website in which ordinary people tell their own extraordinary stories.
Shot and edited by Nick Woolley. Extra production by Tim Mansel and Mary Harper.
Go to next video: Secrets of Christmas window dressers