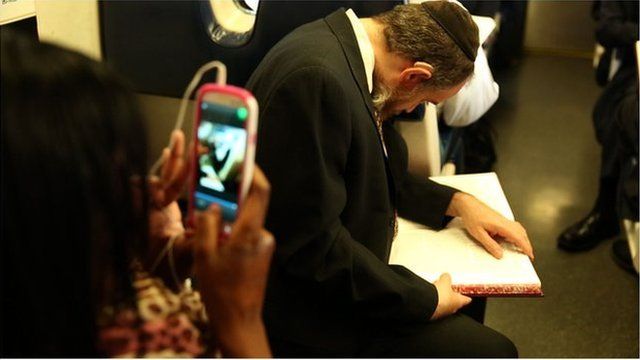 Video
Tablets and the Talmud: The digital ascendance of a holy tract
Every morning Jewish Orthodox commuters from Long Island use their hour-long train ride to New York City to study the Talmud, a centuries old compilation of Jewish law and tradition.
The first car of the last wagon of the Long Island Rail Road turns into a moving synagogue, with about 30 people listening to a rabbi explaining the text and discussing it together, sometimes sitting next to other commuters reading their newspapers or dozing off.
The class has been taking place for more than two decades but these days many of the students of the book follow along on their tablets and smart phones.
The BBC took the 8:01 Cedarhurst train to see how religion and technology travel together.
Produced by the BBC's Anna Bressanin
Living Online is a series of video features published every Tuesday on the BBC News website which look at how technology converges with culture and all aspects of our daily lives.
Go to next video: All the web's a stage