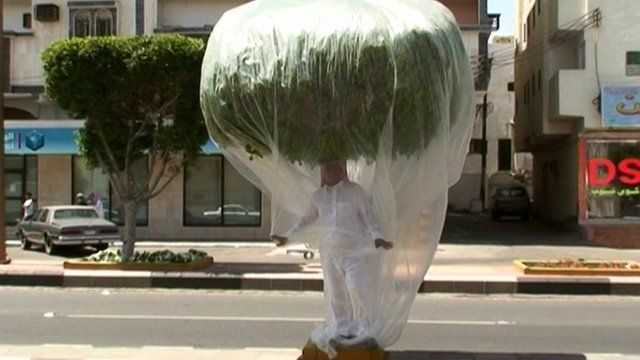 Video
Abdulnasser Gharem's Flora and Fauna
Abdulnasser Gharem is one of the most talked about artists in the Gulf, combining a career as a lieutenant-colonel in the Saudi army with his work as a conceptual artist.
Col Gharem uses intricate geometric patterns from Arab culture to convey messages about the way religion and authority are used to influence people.
He went to school with two of the men who hijacked the planes on 9/11, and he has used some of his other works of art to explore why they became radicalised.
This video shows his first live performance piece, Flora and Fauna, which was designed to highlight how imported trees were damaging indigenous ones in Abha, in southern Saudi Arabia.
Video courtesy of Abdulnasser Gharem; © the artist and Edge of Arabia
Go to next video: Digital art bringing pictures to life