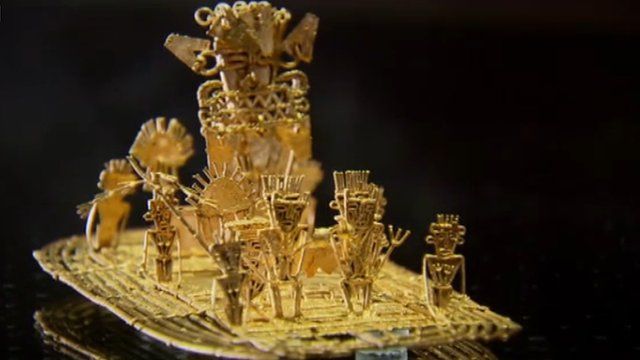 Video
The search for El Dorado at the museum of gold
Archaeologist and curator of the Americas at The British Museum, Dr Jago Cooper, visits the Gold Museum in Bogota, Colombia in his search for information about El Dorado.
The dream of El Dorado, a lost city of gold, led many a conquistador on a fruitless trek to South America, but it was all wishful thinking. The "golden one" was actually not a place but a person, as recent archaeological research confirms.
Cooper also visits Lake Guatavita in central Colombia, a site that holds ceremonial significance in the story of El Dorado.
Find out more in the Lost Kingdoms of South America, a series for BBC Four starting on Monday 14January at 21:00 GMT and The British Museum Digital Exhibition.