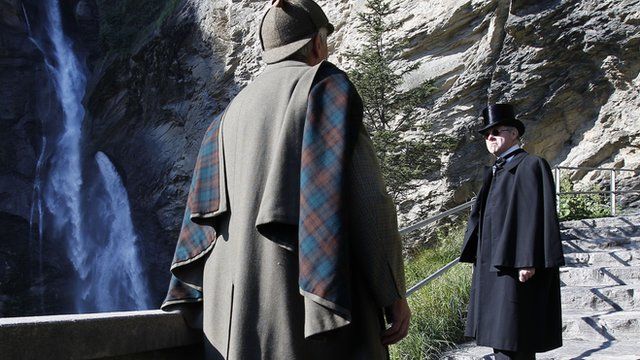 Video
Sherlock Holmes fans make Reichenbach Falls pilgrimage
It is 125 years since Sir Arthur Conan Doyle's famous detective Sherlock Holmes and his sidekick Dr John Watson were introduced to the world.
The Sherlock Holmes Society has a current membership of almost 1,200 people from all over the world, and many of them spend their free time re-enacting the key moments of their hero's life.
More than 70 of them have just completed a pilgrimage to Meiringen in Switzerland, home of the Reichenbach Falls, and scene of the final struggle between Sherlock Holmes and his arch-enemy, the evil Prof James Moriarty.
The society's president Guy Marriott explained to BBC News why he and other enthusiasts travel the world dressed as characters from Holmes novels.
Go to next video: Robert Downey Jr on Sherlock Holmes