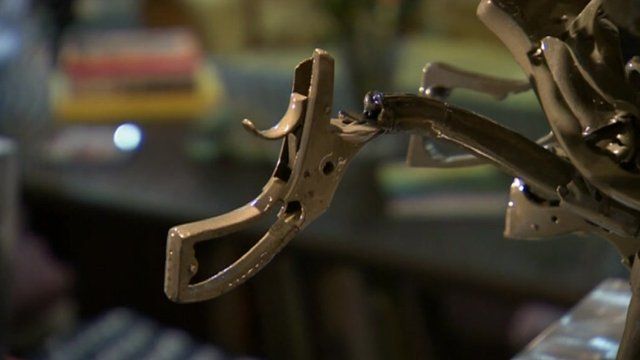 Video
Victor Zayas sculpts artworks from LAPD-seized guns
To cut down on the gun violence that has plagued Los Angeles for years, the city's police department established a "buy-back" programme to get weapons off the streets.
Now, Los Angeles artist Victor Hugo Zayas has found another use for the guns: as raw material for works of sculpture.
"The main theme is violence," he says of his works. "They're portraits of crime."
The LAPD instituted a gun buy-back programme four years ago.
The department buys the guns - $100 (£64) for a handgun or rifle; $200 for an assault rifle, says police Commander Andrew Smith - destroys them, and gives the parts to Zayas for his artwork.
Zayas says the works are powerful because the forms of the firearms are so instantly recognisable.
"People identify with them," Zayas says. "Immediately they know what it is. These are made of instruments of death and violence."
Produced by the BBC's Regan Morris and Maxine Collins