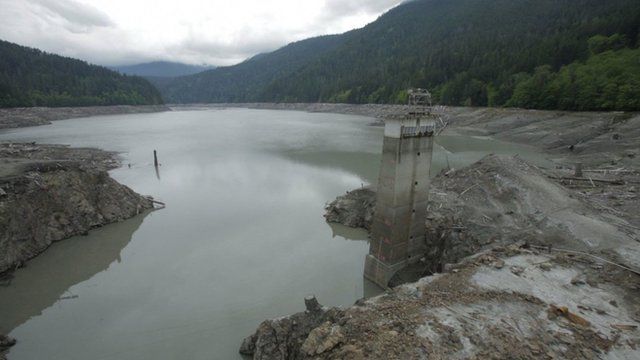 Video
Demolition dam: Why dismantle a huge river barrier?
A century after the Elwha River dam was built, the vast structure that once provided power for large parts of the US state of Washington has been demolished.
The dam's removal will help revive a threatened salmon run on the river and enable the restoration of sacred tribal sites flooded decades ago.
The Elwha dam was built in 1913 in what is now the Olympic National Park. The demolition of a second hydro-electric dam a few miles away - the Glines Canyon dam, built in 1927 - is well under way in the biggest project of its kind in US history.
The park is home to the Klallam tribe, whose identity is strongly connected with the river and with salmon fishing. The failure to build fish ladders when the dams were originally built had decimated what was once one of the richest salmon runs outside Alaska.
Adding new ladders would have proved prohibitively expensive. And the dams also needed major upgrades because they no longer met modern environmental standards or produced energy at an efficient price.
The BBC went to see the drilling and explosions in action and to find out how the salmon will be reintroduced to the river.
Produced by Anna Bressanin. Camera by Ilya Shnitser