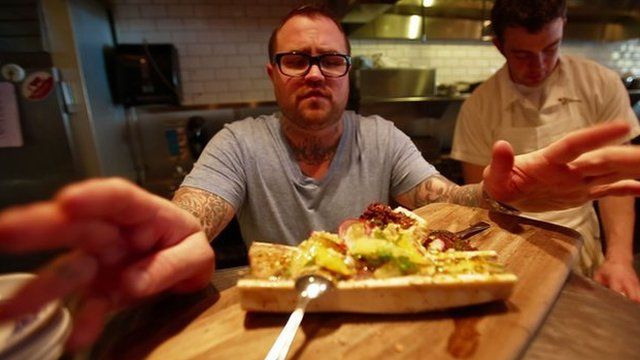 Video
The vegetarian chef who turned carnivore
Jamie Bissonnette is a "nose to tail" cook. He believes that since an animal died to get to your table, it deserves to be eaten entirely; nothing should be thrown away.
It's one of the newest movements in American cuisine. Owner of two restaurants in Boston, Mr Bissonnette was a vegetarian before he began specialising in cooking ingredients like veal sweetbreads - the thymus glands of a baby cow.
"I started cooking when I was a child, because my mother was a terrible cook," explains Mr Bissonnette. "She never approved of me being a chef, she thinks it is a waste of time. Well, I proved her wrong." Last year, he was awarded the Food&Wine People's Best New Chef 2011.
A former bass player, who enjoys ska and punk blasting in his kitchen, Mr Bissonnette opens his fridge to the BBC, shows off his buffalo hearts and tongues and his own food-inspired tattoos.
Video produced for the BBC by Anna Bressanin. Camera by Ilya Shnitser