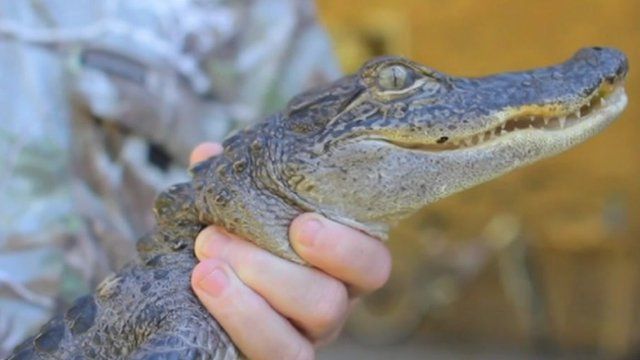 Video
First Person: Veteran alligator hunter
Howard McCrea is one of the oldest nuisance alligator hunters in Louisiana. Aged 64, he has been hunting alligators all his life, following a family tradition in the swamps of Slidell, 30 miles from New Orleans.
Fifteen years ago, he started working for the Department of Wildlife and Fisheries. "If you have an alligator come up in your backyard, I'll go and get it, remove it and relocate it," he explains.
In the high season, Mr McCrea gets calls every day from people living in the swamps region, who find alligators in swimming pools, backyards and sometimes even on the streets in urban areas. Rainy weather makes alligators particularly eager to move and go close to humans.
Alligators can be as big as 12ft or as small as 6in. An alligator once bit Mr McCrea on the hand, he has been "knocked outta boats and chased up trees", but he loves his job. He taught it to his daughter and now to his granddaughter, who caught her first alligator when she was just six years old.
CREDITS: Produced by Anna Bressanin, Camera by Ilya Shnitser
World News America is broadcast on the BBC World News channel. You can follow the programme on Facebook and Twitter.
Go to next video: First Person: What is the sound of Nortec?