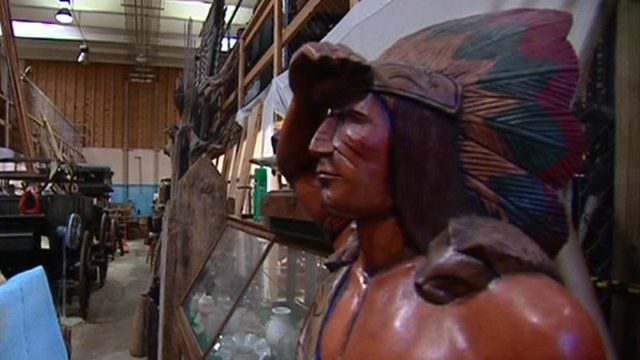 Video
Harrisburg sells Wild West treasures to service debts
The state capital of Pennsylvania, Harrisburg, is groaning under more than $300m (£190m) of debt.
The small city of 50,000 people spent a fortune retrofitting a polluting incinerator. The plant works safely now, but earlier delays and cost the city heavily.
Meanwhile, in a leaky outbuilding of the old incinerator, Harrisburg is preparing to sell off some unlikely treasures - some 8,000 artefacts, most from the old Wild West.
From creaking stage-coaches to the ghostly skeletons of cacti, there is a bit of everything, including a wanted "Dead or Alive" poster for Jesse James, a horse's hoof from the battle of the Little Big Horn and a bag full of undertaker's equipment.
The BBC's Paul Adams was given a tour.
Go to next video: Altered States: Florida housing boom