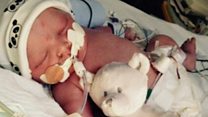 Video
'Our baby son died due to NHS error'
On average, more than 1,400 mistakes are being recorded by maternity staff in hospitals in England each week, according to new figures obtained by the Victoria Derbyshire programme.
It follows responses from 81 NHS trusts out of the 132 in England.
Adam Asquith and Sarah Ellis's son Gino died after being severely starved of oxygen.
A report found medical staff had failed to act on warning signs and Sarah was left waiting on a busy maternity ward even though she told staff she was concerned she couldn't feel her baby moving.
Watch the Victoria Derbyshire programme on weekdays between 09:00 and 11:00 on BBC Two and the BBC News channel.