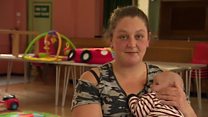 Video
NHS Health Check: What the NHS does for you
Every day one million patients are seen by the NHS. Here, some of them share their stories - good and bad.
Jade called 999 with leg pain and was shocked to find out she was in labour.
She says: "I didn't know I was pregnant until I got into the delivery suite so they were very very supportive and they helped me with baby clothes because I had nothing."
Londoner Rachel says her experience of mental health treatment in the NHS has been "really mixed".
"Often the right services aren't there when you need them so you can end up waiting a really long time and things can end up getting really bad before you get help," she says.