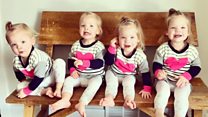 Video
Utah couple's life transformed by quadruplets
When Ashley and Tyson Gardner found out they were going to have quadruplets, a photo of Ashley holding the ultrasound scans went viral.
The couple, from Utah, had struggled to conceive for eight years, but they eventually had two sets of identical twin girls by IVF treatment.
"When we first found out we were having quadruplets, it was pure terror and pure joy at the same time," Ashley explained.
"The doctors said we only had a 40% chance of having one baby, so to have all four to come at once was a huge blessing and a huge miracle."
Video journalist: Hannah Gelbart
Join the conversation - find us on Facebook
Go to next video: Boy, 2, saves twin from falling furniture