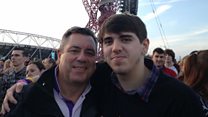 Video
A father and son talk about their experience battling OCD
Richard has suffered from Obsessive Compulsive Disorder since he was a teenager. At first, he did not want to tell his father Barry, because he thought it would make him angry.
But as his condition worsened Richard had no choice but to rely on his father for help. And it was only when Barry himself hit rock bottom that his son found the means to recover.
If you are affected by any of the issues raised in this programme and would like details of organisations which offer advice and support, go online to bbc.co.uk/actionline or you can call for free, at any time to hear recorded information 0800 066 066.
(Photo: Richard and his father Barry. Credit: Family handout)