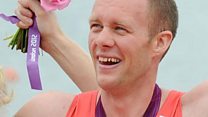 Video
Paralympian David Smith: A letter to my younger self
If you could tell your younger self anything, what would it be? For Paralympian David Smith MBE, it would be about living each day like the last.
The 38-year-old from Aviemore, who was born with a club foot, won gold in rowing at the London Paralympics in 2012 and hoped to compete in Rio in cycling.
However his dream ended when he had to opt for life-saving surgery on a spinal tumour – which could have stopped his breathing without removal.
Although the surgery went well, he was left temporarily paralysed on one side and was unable to use his left arm and leg.
After months of rehabilitation at the National Spinal Injury Centre, David is running and cycling again - and he has shared a letter he had written – penned to his pre-surgery self with BBC Radio 5 live.