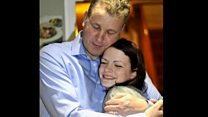 Video
Family travel from England to special unit in Scotland
Fiona Hollings is 19 years old. She suffers from anorexia and needs treatment in a specialist unit. But because no beds were available near her home in Buckinghamshire, her family have to travel to Glasgow to see her in a private clinic.
In the last four months parents Stephen and Julia Hollings have travelled more than 8,000 miles and spent more than £3,000 on hire cars, air fares and accommodation.
Doctors have told 5 live Investigates that the need for places to treat illnesses such as anorexia and bulimia is massively outstripping supply. And the programme has also discovered that the number of deaths from eating disorders in England and Wales has risen by 65% since 2014.
This clip is taken from 5 live Investigates on 27 November 2016.