Media player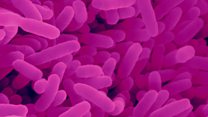 Media playback is unsupported on your device
Video
Prof Liz Sockett tells Inside Science how predatory bacteria kill superbugs
Predatory bacteria - that eat others of their kind - could be a new weapon in the fight against superbugs, say UK researchers.
Experiments showed a dose of Bdellovibrio bacteriovorus acted like a "living antibiotic" to help clear an otherwise lethal infection.
Prof Liz Sockett tells the Inside Science programme how they do it.