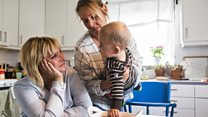 Video
Uterus transplant: 'My sister gave me her womb'
Lolita Wasterlund is one of the few people in the world to have a uterine transplant. Her sister donated her uterus - the first and only time this has happened between siblings.
Lolita was born with Mayer-Rokitansky-Küster-Hauser syndrome which meant she had only one kidney, a shortened vagina and no uterus.
She told BBC Radio 5 live's Sarah Brett and Nihal Arthanayake, it was "really hard" because "she always wanted a baby" and "always wanted to be a mother".
Doctors from the University of Gothenburg performed the surgery which is seen as particularly risky when there is a living donor.
Lolita's sister Linda said she only felt scared after the surgery:
"When Lolita had got my womb then I got scared. I was thinking what would happen if it didn't work and I've put false hope into my sister's mind."
Lolita gave birth to a son Cash-Douglas in June 2015.