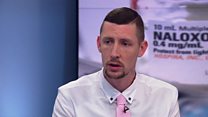 Video
The heroin overdose antidote saving lives
A year ago, a change in the law made it possible for people who might have to deal with overdosing heroin users to be allowed to carry an antidote.
The injection, naloxone, can be carried by lifeguards, toilet attendants, carers and also friends, family and even children of drug users.
Charity Change, Grow, Live says the antidote has saved hundreds of lives, but figures show more people than ever in England and Wales are dying from heroin and other opiate drugs.
Victoria Derbyshire presenter Joanna Gosling spoke to Karl Price, a former drug user who has been saved from dying of an overdose by naloxone on three occasions.
Watch the full interview here.
The Victoria Derbyshire programme is broadcast on weekdays between 09:00 and 11:00 on BBC Two and the BBC News channel.
Follow the programme on Facebook and Twitter, and find all our content online.
Go to next video: Drug user 'watched best friend die'