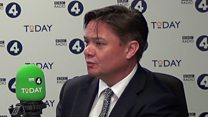 Video
MPs damn conditions at Sports Direct
MPs have accused Sports Direct, one of Europe's biggest retailers, of not treating its workers like humans.
Iain Wright, chairman of the Commons Business Committee, said company founder Mike Ashley must have been aware of the appalling conditions for workers.
Sports Direct has said its company's policy was to treat all people "with dignity and respect".
Mr Ashley has previously told the committee he was "100 per cent" unaware of allegations of workers being promised permanent contracts in return for sexual favours.
Mr Wright told presenter Sarah Montague on the Today programme that he accepted the company had grown too big for Mr Ashley to control personally.
Go to next video: Sports Direct staff 'not treated as humans', say MPs