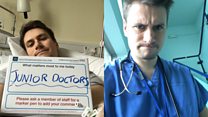 Video
Striking junior doctor is also patient in hospital
Junior doctors have started their second all-out strike in England, continuing their protest at the imposition of a new contract.
But there's one junior doctor who's inside a hospital, and not because he's crossed a picket line.
David Bratt is currently a patient at the Royal Hallamshire in Sheffield, He told Radio 5 live Daily's Peter Allen that the current care he is receiving is "fantastic".
"The care I've received over the past week has been fantastic. It's a very surreal experience to be a doctor but also a patient inside a hospital on these days. My window overlooks the picket lines."
Go to next video: 'The consultants have got our back'