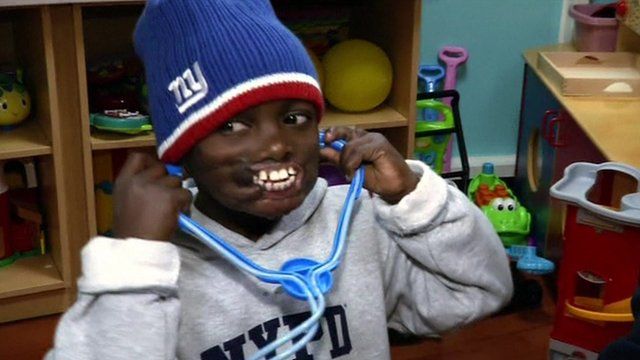 Video
Boy, eight, who was attacked by chimps to get lip reconstruction
An eight-year-old boy who was attacked by a group of chimpanzees which tore off his lips, will have them reconstructed in a New York Hospital.
Dunia Sibomana was playing near a river with his younger brother in his native Democratic Republic of Congo two years ago when the animals struck. His sibling died in the attack.
During the first long session of surgery that will see skin being taken from his forearm, doctors at Stony Brook Children's Hospital on Long Island will aim to restore lips that will improve his speech and stop dribbling.
In a follow-up surgery, muscle from Sibomana's cheek will be used to allow him to move his new lips.
Dr Leon Klempner founded the Smile Rescue Fund for Kids, and explains why he wants to help the boy with surgery, and by raising money to send him to a boarding school when he returns to Africa.
Go to next video: Victim's reconstructive surgery hope