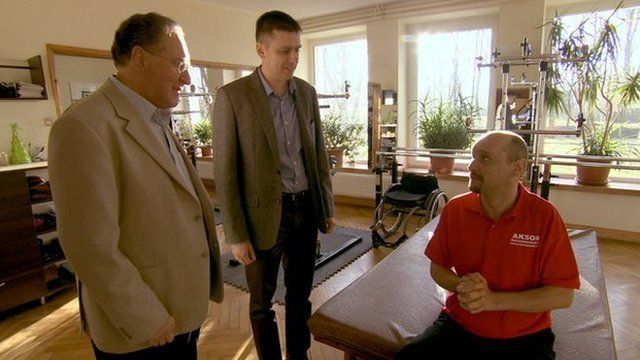 Video
Paralysis treatment 'has vast potential'
Pioneering therapy that enabled a paralysed man to walk again has "opened the door" to future treatment with vast potential, the leader of the UK research team Prof Geoff Raisman has said.
Darek Fidyka, who was paralysed from the chest down in a knife attack in 2010, can now walk using a frame after an operation involving cells from his nasal cavity being transplanted into his spinal cord.
Prof Raisman, from University College London's Institute of Neurology, explained that the same method could potentially be used in future to treat stroke patients as well as those suffering from spinal cord injuries.
David Nicholls, founder of the Nicholls Spinal Injury Foundation which helped finance the research, described the results as the "start of a dream".
He recalled being told on many occasions that paralysis was "incurable", after his son Dan was paralysed following an accident.
First broadcast on the Today programme on Tuesday 21 October 2014.
Go to next video: Paralysed man walks after cell surgery