Media player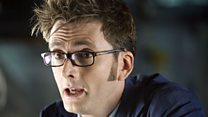 Media playback is unsupported on your device
Video
A fine debut from the Just a Minute newbie.
David Tennant's days with the Royal Shakespeare Company came in useful when he was asked to talk for 60 seconds without hesitation, repetition or deviation on the topic, 'Exit, pursued by a bear'.
First broadcast on Just a Minute, 9 February 2015. Please scroll down for the link to the full programme.