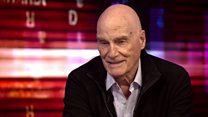 Video
Barbet Schroeder: Evil is 'part of humanity'
The Swiss film director Barbet Schroeder completed his Trilogy of Evil film series this year with The Venerable W, a film about an Buddhist monk in Myanmar who uses strong anti-Muslim rhetoric in his speeches and writings.
Previous subjects for his films have been the former Ugandan dictator Idi Amin and the lawyer Jacques Verges who represented high-profile defendants charged with terrorism or war crimes.
Mr Schroeder said he was not judgemental about the people in his films but he did believe that evil was part of humanity and "not coming from somewhere else".
He told Hardtalk: "The idea is not to judge those people, but to make them talk and find out more about them and eventually... give them enough rope to hang themselves."
You can see the interview in full on BBC iPlayer (UK only).
Go to next video: 'Sole ambition was to finish farewell tour'