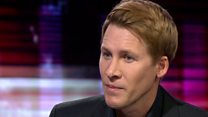 Video
Dustin Lance Black: Growing up gay in America's Deep South
Screenwriter and activist Dustin Lance Black has told BBC Hardtalk that the isolation he felt growing up as a gay teenager in Texas made him contemplate suicide.
"That isolation makes young talented LGBT people fade and stop trying to excel, stop trying to stick out in positive ways. For me, that isolation ultimately led to thoughts of taking my own life," he said.
Black, who is married to British Olympic diver Tom Daley, won an Oscar for his screenplay for the 2008 film Milk, a biopic based on the life of Harvey Milk, the first openly gay person to be elected to public office in California.
Watch the full interview on BBC World News and the BBC News Channel on Wednesday 12 July and afterwards on BBC iPlayer (UK only).