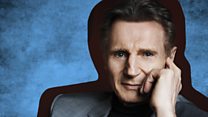 Video
Liam Neeson plays a pianist with dementia
Liam Neeson stars as a world class concert pianist who is reduced by dementia, playing whatever he can "still manage" for friends and family. When he stretches for Ravel's Concerto in G his thoughts unravel and yet his fingers hold their own memories.
Jan Carson's poetic monologue is one of six commissions for BBC Radio 3 as part of the BBC Music Day 2017 celebrations.
Each drama celebrates this year's theme The Power of Music, via a short story about the transformative power of music.
Other monologues are performed by actors including Tamsin Greig, Julie Hesmondhalgh and Daniel Mays. They can be heard on the BBC Radio 3 website.