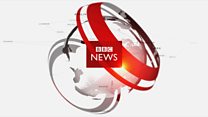 Video
Banter-proof responses to sexism
100 Women presents: Three comedians with witty responses to everyday sexism for you. You're welcome.
This video has been optimised for mobile viewing on the BBC News app. The BBC News app is available from the Apple App Store for iPhone and Google Play Store for Android.
Video journalist Derrick Evans, produced by Georgina Pearce. With thanks to Funny Women
What is 100 women?
BBC 100 Women names 100 influential and inspirational women around the world every year. We create documentaries, features and interviews about their lives, giving more space for stories that put women at the centre. Follow BBC 100 Women on Instagram and Facebook and join the conversation.