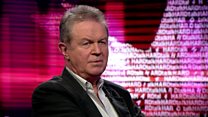 Video
John Madden: No 'harm' in criticising Donald Trump
The British director John Madden says he does not believe there is "any harm" in people from the arts world expressing their views on President Trump.
He said: "It is hard to think of a political figure that has been more provocative and more divisive than the current President of the United States."
The actress Meryl Streep had "endured a lot of very visceral attacks of one sort of another since she spoke out about it" but her view had been she didn't have a choice, she had to speak out, said Mr Madden.
"What is the alternative? The alternative is not to say anything," he added.
You can see the interview in full on Wednesday 15 February on BBC World News and the BBC News Channel and after on BBCiPlayer (UK only).
Go to next video: Whitaker on hopes for Trump presidency