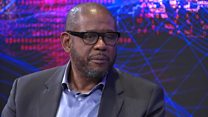 Video
Forest Whitaker on hopes for Trump presidency
Actor Forest Whitaker has said that although he hopes that the new US President Donald Trump will represent all constituents, he "can't be optimistic based on some of the statements that have been made".
Speaking to Hardtalk's Zeinab Badawi at the World Economic Forum in Davos, Whitaker said that he hoped that "common ground" would be found, but that people must be ready to challenge the new administration if this does not happen.
"The people themselves have to stand up and speak. If it doesn't happen, if they're not being respected, not being treated well, their needs are not being met, then they need to stand up, whether that's in protests, movements, marches however, to make their voices be heard," he said.
Watch the full interview on Thursday 26 January 2017 on BBC World News and the BBC News Channel.