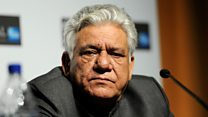 Video
Om Puri was 'India's international star', says Mahadevan
The Indian actor Om Puri has died aged 66. Reports say the actor suffered a heart attack at his residence in Mumbai.
Om Puri was known for his gritty performances in a number of landmark Indian films in the 1980s.
He also appeared in a number of British films, including a cameo in Richard Attenborough's epic on Mahatma Gandhi.
A versatile actor, Puri was known for his roles in Indian, Pakistani, British and Hollywood films. He was awarded an honorary OBE for his contribution to the British film industry in 2004.
Ananth Mahadevan, an actor, director and screenwriter knew him well.
(Picture - Om Puri pictured in London in 2010. Credit: Samir Hussein/Getty Images)