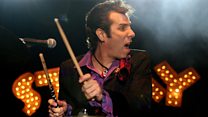 Video
Stray Cat tales
In June 1980, 19-year-old James McDonnell (known as Slim Jim Phantom) boarded a plane from New York to London with his childhood friends and band mates Brian Setzer and Lee Rocker. In less than a year, they went from being homeless, hungry, and living in punk rock squats to spearheading the neo-rockabilly movement of the early 80s.
Slim Jim has just released his autobiography, 'A Stray Cat Struts - My Life as a Rockabilly Rebel'.
Described by one of his oldest friends, Glen Matlock from The Sex Pistols, as a "master of the spectacularly cool", Slim Jim talks to Radio 4's The World Tonight about his life with Britt Ekland and stealing Dusty Bin.