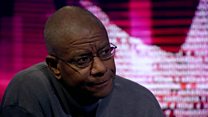 Video
US author Paul Beatty on Donald Trump
Paul Beatty is the first US author to win the Man Booker prize.
His novel, The Sellout, tells the story of a young black man who tries to reinstate slavery and racial segregation in a suburb of Los Angeles.
Asked how he feels about President-elect Donald Trump taking office he said: "I don't know what Trump means. This guy was chosen for a reason. I mean people feel a certain way… It's really scary."
On the subject of whether he feels alienated from the US he said: "I'm not a person who has ever felt this is my place. I live there. It's my home. But I kind of know it's not this place that is designed for me. But it's my home so I have to make it work."
Watch more clips at the Hardtalk website.
You can see the Hardtalk interview in full on BBC World News and the BBC News Channel on Thursday 15 and Friday 16 December and after on BBCiPlayer (UK only).
Go to next video: First US author to win Booker chokes up