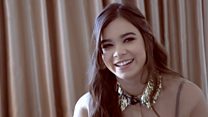 Video
Hailee Steinfeld on pop and Pitch Perfect 3
Five years ago, actress Hailee Steinfeld received an Oscar nomination for playing Mattie Ross - a teenager seeking revenge for her father's murder - in the Coen Brothers' film True Grit.
Now, after starring in films such as Romeo & Juliet, Enders Game and Pitch Perfect 2, she has turned her attention to pop.
Her new single, Starving, is a collaboration with dance producer Zedd that is racing up the charts on both sides of the Atlantic.
The star told the BBC about the song's runaway success, the album she is recording with Selena Gomez's producers, and why she's "ready" to start filming Pitch Perfect 3.
Reporter: Mark Savage. Camera: Sophie van Brugen.