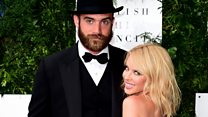 Video
Kylie's fiance on why they won't marry just yet
Joshua Sasse, Kylie Minogue's British fiance has said the couple won't get married until same-sex marriage becomes legal in Australia.
The Australian singer, 48, and English actor, 28, announced their engagement earlier this year.
He told the Victoria Derbyshire programme: "It's important to us... I can't plan a wedding when I know so many people are banned by law from doing so."
The couple have been vocal supporters of the "Say I Do Down Under" marriage equality campaign.
The government has proposed holding a public vote on same-sex marriage in February 2017.
The Victoria Derbyshire programme is broadcast on weekdays between 09:00 and 11:00 on BBC Two and the BBC News channel.
Follow the programme on Facebook and Twitter, and find all our content online.
Go to next video: 'Embarrassing we don't have gay marriage'