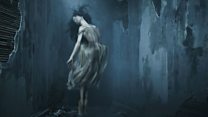 Video
Akram Khan: My Giselle is about 'caste' and 'class'
Choreographer Akram Khan has said his re-imagining of the classic ballet Giselle is about "caste", "class" and "mass migration".
Khan told '5 live's Nihal Arthanayake: "Giselle is epic - epic in the sense that it's… a historical romantic ballet and I was terrified of touching that at all but also I felt I had to find the Giselle that meant something to me."
The choreographer and dancer said he related the ballet to things that were currently happening in the world and that migration "has been a huge issue".
"So yes it's about caste, it's about class, it's about so many different things that have been unfortunately ever present throughout history."
Giselle is Khan's first full-length ballet. It is staged by the Manchester International Festival and English National Ballet and opens at Manchester's Palace Theatre on Tuesday.