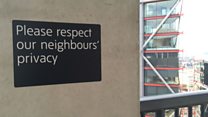 Video
Tate Modern in storm over net curtain remark
Tate Modern has become embroiled in a row with people living in luxury flats, who have complained about being overlooked by visitors to the gallery.
A viewing gallery on the 10th floor of the gallery's new extension means that people can peer into the glass fronted living rooms opposite.
The Tate's director, Sir Nicholas Serota, provoked further anger from some residents when he suggested residents could put up blinds or net curtains.
The artist Grayson Perry told BBC Radio 4's The World at One he had sympathy with those whose privacy had been invaded but the mention of net curtains had brought a class dimension to the row.