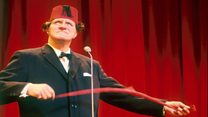 Video
Just Like That: How to do the perfect Tommy Cooper impression
Tommy Cooper's handwritten jokes are to go on display at the Victoria and Albert Museum in London, after it bought the late comic's archive.
The exhibition doesn't include his trademark red fez, but does feature a metal cabinet, in which his jokes were filed alphabetically.
John Hewer is currently preparing to tour the UK with "Just like That: The Tommy Cooper Show".
He plays the comedian in the tribute, and has spent years perfecting Cooper's act and mannerisms.
Hewer says it was Tommy Cooper's voice that was really "iconic".
"Everyone, at some point," he says, has tried an impression with the catchphrase "just like that".
To get Cooper's "mad" laugh right, he adds, you need to go right to the "back of the throat".
This clip is originally from 5 Live's Up All Night Programme on Saturday 27th August 2016.
Go to next video: Memories of Tommy Cooper 30 years on