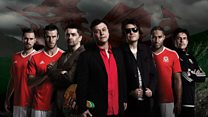 Video
Manic Street Preachers release official anthem for Wales' appearance at Euro 2016
The Welsh rock band Manic Street Preachers has released an official anthem for Wales' appearance at Euro 2016.
Together Stronger (C'mon Wales) celebrates the team qualifying for a major football championship for the first time in more than 50 years. All profits from the song will go to the Welsh charities Princes Gate Trust and Tenovus Cancer Care.
Nicky Wire, lyricist, bassist and vocalist with the Manic Street Preachers, spoke to Nick Robinson about the task of creating a football anthem.
(Photo: Together Stronger song cover. Credit: Columbia Records)
Go to next video: Manic Street Preachers rock the Millennium Stadium in 2002