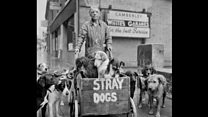 Video
Portrait of Britain: Martin Parr exhibition shows photos from 1930s to present day
The 'Strange and Familiar' exhibition, curated by the iconic British photographer Martin Parr, brings together hundreds of images of the UK taken by international photographers, from the 1930s to the present day.
From social documentary and portraiture, to street and architectural photography, the exhibition at London's Barbican Art Gallery paints a rich and varied picture of British social, political and cultural identity.
Dan Damon takes a look at some of the photographs with Barbican curator Alona Pardo.
See more from World Update
Go to next video: The allure of overexposed photos